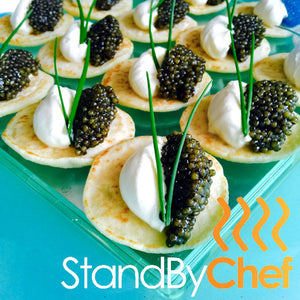 Imperial Caviar Canapes on freshly made Blinis and Smitana Sauce ( Sour Cream).
One tray contains 20 Blinis with 125 grams of Imperial Caviar.
Ideal for those very special occasion.
Allergens: Gluten, What, Fish & Milk
FAQ
What Areas do you deliver?
All our services are available in Central & Greater London. For orders outside London, please contact us as we may require a minimum spend to accept your order.
What time can you deliver?
We deliver all our services between 11.00am and 5.00pm. Currently we are working with two delivery slots (11am - 2pm & 2pm-5pm). If you require a more accurate time, please let us know while checking out or contact us to let us know. Extra charges may apply.
Will your trays fit in my fridge?
Our trays are 325 x 275 x h60 mm and they can be stacked on top of each other
How much notice do you need to fulfil an order?
At least 48 hours, if you need them any earlier, please call the office on 020 3744 1551 to double check we can fulfil your last minute order. Extra charges for last minute orders might apply.
Do you provide Gluten Free & Dairy Free Options?
Yes, please specify your dietary requirement and we will take extra care while preparing your order. For Gluten or Dairy Free items, run a search on our website.
I have an allergy or dietary requirement, do you cater for that?
Off course, just let us know your requirement and we will do our best to accommodate. If you need to search our website for gluten free, dairy free, vegetarian, vegan etc, just type the dietary requirement in our search box here on the right hand side and you will see all products that are gluten free or dairy free.